Mid Sussex Applauds our amazing Community Champions
PR2481/TS/JB - 23/11/2022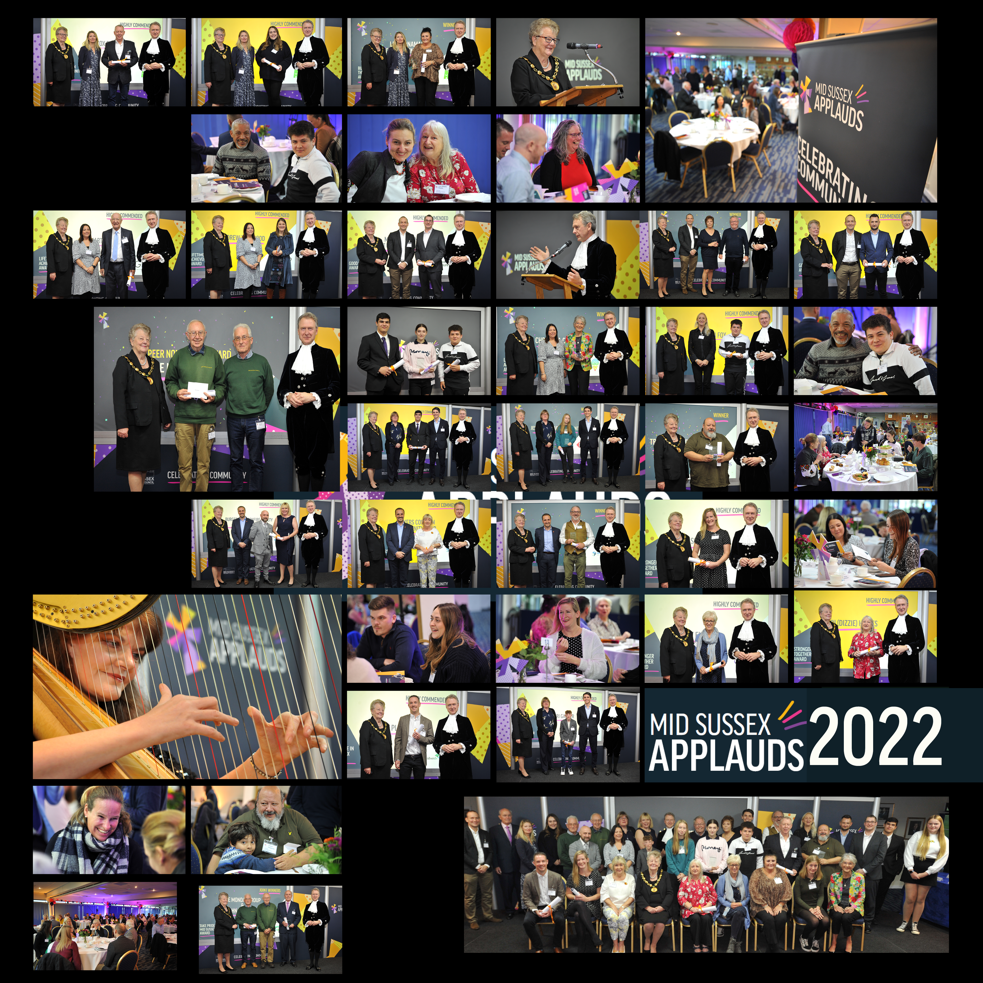 The Mid Sussex Applauds Awards 2022 took place on Sunday 20th of November, showcasing the amazing people, groups and organisations in Mid Sussex.
Chairman of Mid Sussex District Council, Councillor Margaret Belsey hosted Mid Sussex Applauds, the community recognition awards, on 20th November at the South of England Showground in Ardingly.
Councillor Belsey commented, "It is always heartening to hear these positive and supportive stories from our community. This lovely event allows us to appreciate and celebrate residents for the amazing activities across our district. Being joined by nominators and sponsors in this positive celebratory event makes it a true celebration."

The 2022 Awards were made in the following eight categories -
Business in the Community Award (sponsored by ShopAppy)
Highly Commended – Cox Skips and Tulleys Farm.
Winner – Old Dunnings Mill
Lisa McNamara the Manager at Dunnings Mill has supported Being Neighbourly, a community group in East Grinstead and especially the Tuesday group called Chatter Chat, established for isolated elderly neighbours to meet up for a jolly good chat. There is nothing which is too much trouble for Lisa and her amazing team at Old Dunnings Mill. Her nomination concluded - "She is a STAR!"

Good Sport Award (sponsored by Places Leisure)
Highly Commended -  John Kendall (posthumous) of West Hoathly Football Club and Michael Wain of Matt Fiddes Martial Arts.
Winner – Ray and Lesley Dennis
Ray and Lesley have been an inspiration to many for decades having devoted many thousands of hours to build Ashurst Wood Junior Football Club to the amazing standard today. From an immense struggle to keep the club going they now have over 200 children playing (ages 5 to 17 years) in many teams - making the club financially sound and achieving England Football accredited status. They have turned the club around through working together and are still married after 50 years! "Without their involvement the club could have easily folded rather than being the immense success it is today."

Lifetime Achievement Award (sponsored by JobsGoPublic)
Highly Commended -  Andrew Thurgood (posthumous) and Jon Martin.
Winner – Christina Chelmick
Christina is a founder member of Good Neighbours Care. Currently the organisation which relies on finding volunteers has around 150 it can call upon for the needs of over 300 clients across the area. Helping with tasks such as organising transportation for shopping trips, Hospital, GP and Dentist appointments.
Stronger Communities Award (sponsored by CJ Founds Associates)
Highly Commended – Burgess Hill Bonfire Society and Sayers Common Community Shop.
Winner – Dandylion Style, Ardingly
Dandylion Style have come into the village and very quickly become a focal point for the Ardingly community. They have tackled social exclusion by regularly holding coffee mornings and lunches for the elderly. They put everything on free of charge and they even collect and drop off residents so they can attend. Owner and founder Igor recently brought the whole community together when he hired a van and encouraged residents to fill it with essential items and then he drove it himself across to Ukraine.  
Stronger Together Award (sponsored by The Orchards Shopping Centre)
Highly Commended – Lindy Elphick, Lyn (Dizzie) Howes and Eva Sonneveld.
Winner – Trevor Carpenter
Over the past 18 months Trevor Carpenter has given a huge amount of time and energy in setting up Lindfield's Repair Café. Trevor has worked relentlessly to make the Café a success - inspiring volunteers, building skills, linking the community and tackling waste. "I can't think of anyone who deserves a round of applause more than Trevor."
Young Volunteer of the Year Award (sponsored by Clarion Futures)
Highly Commended – Kieron Fox and Millie Hill.
Joint Winners – Francesca Butler-King and Jessica Divall
Francesca is a committed young member of Woodside Netball Club who attends training and coaches the young children from the ages of 5 to 12. " Nothing is ever too much for her and anything you ask her to do she does with a smile on her face and with great energy."
Jessica has been a regular volunteer with sessions run by Albion in the Community as part of the youth club programme. Jess completed over 100 hours of volunteering and attended Young Leader Training. In addition, Jess has become a volunteer with Burgess Hill Little Theatre developing her skills and interest in the technical side of theatre production.
Take Pride in Mid Sussex Award (sponsored by ID Verde)
Highly Commended – Mark Plass, Derek and Brenda Sisson.
Joint Winners – John Pierpoint and The Monday Group
John has served Balcombe as an un-paid village ranger for decades. He keeps the verges mown and drains unblocked. Mending and tending to our hedges, footpaths, signposts, fences, bus stops and flower beds, he keeps the village clean and tidy and its assets working.  "John is a true ambassador for village life, always with a warm greeting, an engaged conversation and an eye out for a task to be done."
The Monday Group is made up of volunteers who build and maintain stiles and other wooden structures on public rights-of-way across the district and wider afield. In 2021 there have been 227 jobs completed including 73 stile repairs and 33 new stile, 56 clearance jobs and seven gates. Their work helps to open up access to nature and the outdoors, allowing many people who would otherwise struggle to enjoy the exercise and fresh air. 
 
Young Achiever Award (sponsored by HSBC)
Highly Commended – Harri Gander and Kobi Ghasemi.
Winner – Jessica Richardson Blunt
Jessica has shown amazing strength and resilience through some major changes in her life. Jessica works with a positive outlook, to the best of her abilities and as a result, she has made excellent academic progress. Jess was a class 'Student Councillor' in Key Stage 4 and is now House Captain.  
Peer Nominated Award
In this category each nominee is given the chance to vote for their favourite in any of the categories. The winner was – The Monday Group who were delighted to have been chosen.
Awards were presented by sponsors and by High Sheriff of West Sussex James Whitmore. Full details of the winners' stories can be found at www.midsussexapplauds.co.uk
ENDS