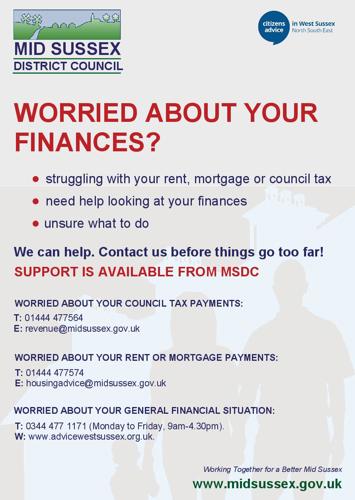 If you are struggling to pay your Council Tax / Business Rates bill or having difficulty managing your finances there are a number of things to consider that may help.
Council Tax Support
Council Tax Support is awarded to people on low income. It is based on the household income, capital and personal circumstances. For more information, please visit our Council Tax Support page.
To check if you may be eligible please use our Benefits Calculator
Council Tax Discounts, Exemptions
You may be eligible for one of the discounts or exemptions available on Council Tax. Check if you are entitled to a Discount or an Exemption.
Employment Support
The best way to avoid rent arrears building up may be to increase your income through employment. Find out what help is available in finding work.
https://www.midsussex.gov.uk/revsandbens/benefits/financial-advice-and-getting-into-employment/getting-into-employment/
Debt Advice
Please see our useful contacts page for a list of local and national agencies that give free debt advice.