How will I get paid the rebate?
Applications for the £150 Energy Payment have now closed. If you are eligible, but have not applied or received payment, your £150 will be credited to your Council Tax account by 30th September 2022.
Who's eligible for the rebate?
The Energy Bill rebate is available to all households in Council Tax bands A to D, (or are in Band E and qualify for the disabled band reduction)
You must be liable for the Council Tax bill at the property to be eligible for the rebate, and you will still be eligible if you receive 100% Council Tax Support, or are exempt under class N, S, U or W.
Empty homes or second homes are not eligible for the rebate.
Only one £150 payment will be made per household, regardless of the number of occupants or liable council taxpayers.
For Households in Council Tax bands E-H
The Council also has a Local Scheme to pay £150 to assist those households on lower incomes, who do not fall into the national scheme criteria.
This is a limited fund, which is now open to those in property bands E-H who are receiving one of the benefits or receive a discount or exemption on their Council Tax as detailed below.
Am I eligible?
You will be eligible if you receive or have received since 1st April 2022 one of the following benefits:
Council Tax Support
Housing Benefit
Pension Credit
Employment and Support Allowance (income related)
Tax Credits
Income Support
Universal Credit
Carers Allowance
War or War Widows Pension
Armed forces independence payment
OR
You receive a reduction on your Council Tax due to:
Disablement
having a resident carer
OR
You are exempt from paying Council Tax as all members of the household are:
Severally mentally impaired
Students
When does the scheme close?
All payments under the local scheme must be made by 30th November 2022, however, we reserve the right to end the scheme before this date if all the funding has been allocated.
What can I do if I am not currently eligible?
If funding allows, then we may be able to accept applications from those who are not currently eligible. If this is possible, we will update our Facebook page and our website so please make sure you check them regularly.
Apply online for the local scheme
How can I apply for the rebate?
You can apply for the £150 energy payment by clicking the button below
Apply for your £150 Energy Rebate
To apply you will need to create an account with a valid email address. You also need to provide your Council Tax Property Reference. If you don't know this, you can check your council tax band here.
Please watch the following videos if you are having trouble with the application.
 To make your online application, you will need to provide
If you would like to make a paper application, please contact our offices on 01444 477564 and select option 1, alternatively you can collect a form from reception at our Oaklands office in Haywards Heath.
If you are eligible for the national scheme because you are in a property in bands A – D and meet the other criteria and we do not receive an application by 31st August 2022 we will credit your Council Tax account during September. If you would like your account to be credited you do not need to contact us this will be done automatically.
Can I request a review of my Council Tax Band?
To request a review of your Council Tax band, you will need
to explain why you believe your band is incorrect and 
provide supporting evidence.
This may not affect your eligibility to the £150 payment. For further information please see: How to challenge your council tax band
Customers should read the following guidance from GOV.uk on council tax bands.
Be aware of scams
Once we have received your application you will receive an email notification from Grant Approval <noreply@grantapproval.co.uk>. This is an email that will not require you do anything and is not a scam email.
We are aware there are several scams circulating trying to take advantage of the payment process. 
Here are some useful tips to avoid being scammed
We will never call you to ask for your bank or personal details over the phone or through text message.
If you get an email or text asking for personal details, then do not click on the links.
Find out more about the council tax rebate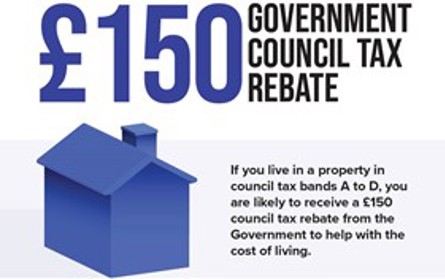 The guidance that has been provided by the Government to local councils about the Council Tax Energy Rebate scheme is available on GOV.UK.